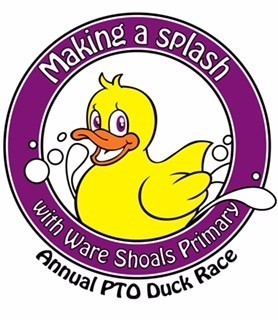 Ware Shoals Primary 2020 Duck Race
Jason Morrison
Wednesday, June 03, 2020
What time is it???
It's Ware Shoals Primary School PTO Duck Race Time!!!!
It's our 8th annual WSPS PTO Duck Race! Due to COVID-19, we are selling our ducks a little differently this year. Ducks are now available for online purchase through our PayPal and Venmo accounts. You will not receive a raffle ticket this year, your receipt from your online purchase will be your entry into the race. Purchase as many ducks as you would like and help us raise money for our school. We will have our duck race at the park (details are below) and you do not have to be present to win. We will go live that day on Facebook and you can watch from the comfort of your home or wherever you like.
Cost Per Duck: $2.00 per duck.
Payment Options: PayPal (paypal.me/wspspto) or Venmo (www.venmo.com/wspspto)
When: Saturday, June 27, 2020
Time: 11:00 am
Where: Irving Pitts Memorial Park 2283 Power House Rd, Ware Shoals, SC 29692
Hosted By: WSPS PTO
Top Prizes:
Disney Package (10 tickets)
Great Wolf Lodge Package
Myrtle Beach Package