News
Check out our eLearning page for up to date Wi-Fi locations near you.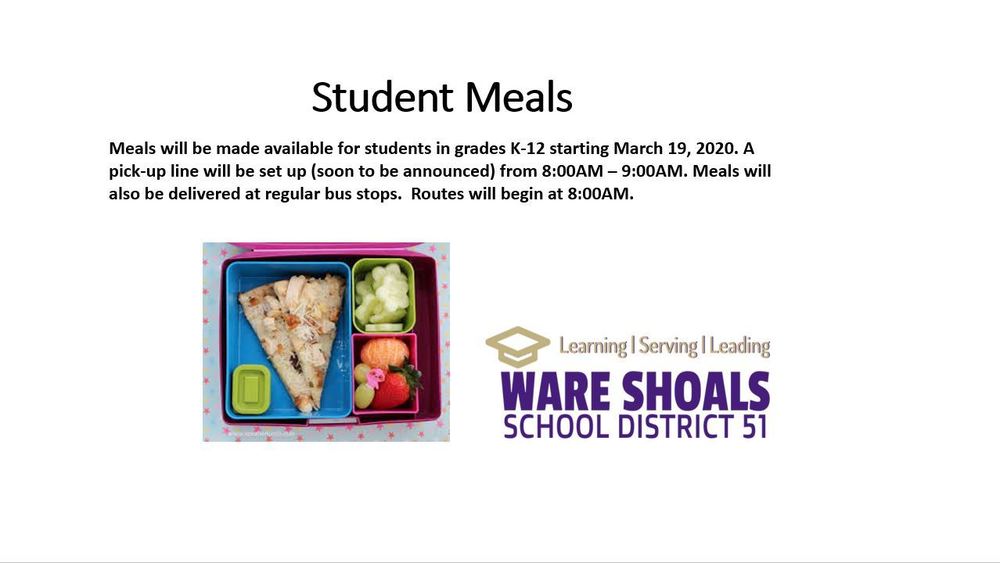 Meals will be made available for students in grades k-12 starting March 19, 2020. A pick-up line will be set up from 8:00AM-9:00AM. Meals will also be delivered at...
SEE ALL NEWS
LIVE FEED

Dr. Fay Sprouse
5 days ago
Today Gov. McMaster announced that SC schools will be closed through April 30. Our state superintendent will be providing guidance on student work soon, relaxing course and time requirements. We want students to continue learning but not be overwhelmed. More info coming soon!

Dr. Fay Sprouse
10 days ago
Free breakfast and lunch for children ages 18 and under can be picked up from 8-9AM at the WSH cafeteria, behind the high school. Buses will deliver meals throughout the district starting at 8AM. We will serve any child! Stand outside to flag us down if not a regular bus rider. view image

Dr. Fay Sprouse
11 days ago
Beginning 3-19-20 WSSD51 will provide free breakfast and lunch to children. Meals can be picked up at regular bus stops or students may pick up their meals from 8-9 AM. Pick up location is the WSH cafeteria, behind the high school. Children must be present to receive meals. view image

Dr. Fay Sprouse
16 days ago
The Early Release Day, scheduled for March 25, has been moved to next Wednesday, March 18 to allow time for teachers to do emergency lesson plans. The State Dept. is requiring 2 weeks of plans in case DHEC orders schools closed due to the Coronavirus. We want to be prepared!

Dr. Fay Sprouse
about 1 month ago
Ware Shoals School District will be on a 2 hour delay tomorrow (Friday, February 21) due to a forecast of possible black ice on the roadways. Temperatures are predicted to drop below freezing around 4am and continue to hover at or below freezing for several hours. We will further assess weather conditions in the morning. If we need to delay further or cancel school we will be back in touch around 7am. Safety is our number one priority!
SEE ALL POSTS