GREAT news...bus riders are no longer required to wear face masks! The CDC lifted the requirement on 2-25-22.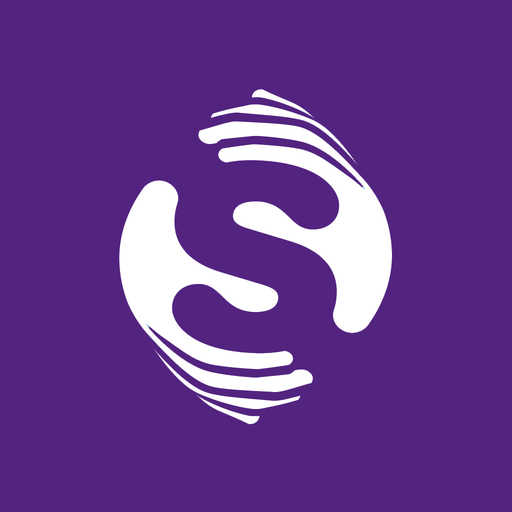 We are in search of a District Safety Coordinator. See the job posting on our District Facebook page.

The board recently voted to increase substitute pay. Daily rates range from $80-$120 and hourly from $10.67-$13.33. A complete list of rates is on our district's Facebook page. If you would like to sub for us, contact Kelly Services and join our team!
https://www.facebook.com/kellyservices


This week we welcome spectators back to watch our Hornet basketball teams play. The nurses report that our COVID cases are beginning to decline, and we are almost back to full capacity with our faculty and staff. We still encourage wearing masks and social distancing to the extent possible. We have four remaining home games and one away game. Come support our Hornets! Calhoun Falls @ Ware Shoals 2/2/22 (makeup game) Ware Shoals @ Calhoun Falls 2/4/22 SSC @ Ware Shoals 2/7/22 High Point @ Ware Shoals 2/9/22 Dixie @ Ware Shoals 2/10/22 (makeup game)

Tonight's Varsity Basketball games/Senior Night will be Live Streamed from our NEW "Live Sports" button on our District's webpage. The Live Stream feed will begin promptly at 6 pm tonight. Please reference the attached image to access future sporting events FREE! Go Hornets!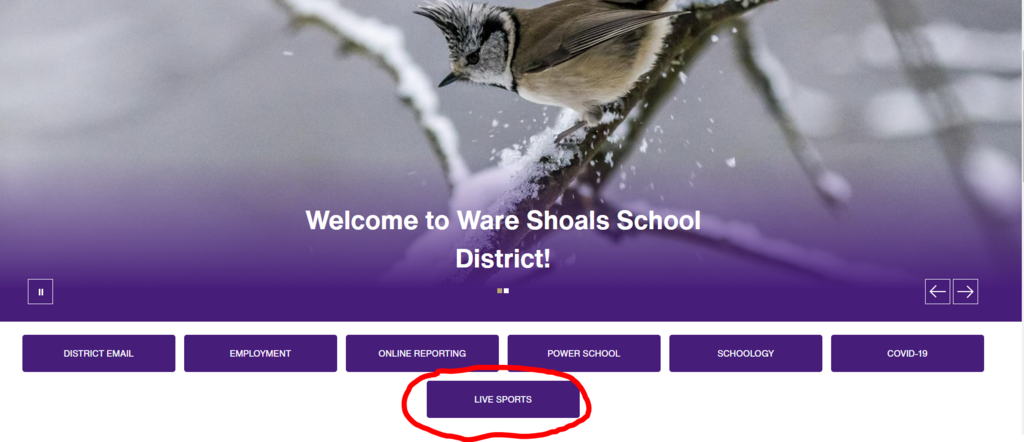 Senior Night Friday, January 28, 2022 Each senior basketball player and cheerleader will be able to purchase 4 tickets from Mrs. Wells in the front office. No tickets will be sold at the door. Masks will be required to attend the game and families should maintain distance from other family clusters.

Message from Ware Shoals School District...We are aware that winter weather is being predicted for some areas, but reports we've received for our area from the National Weather Service lead us to believe that we can safely operate on a normal schedule. We will monitor conditions through the night, and if we experience freezing rain or snow that would make travel dangerous, you will get a call and text by 5:45 to notify you of an eLearning Day.

Today, Dr. Brannon Traxler, Dir. of Public Health for DHEC, held a video chat to review changes in guidance for schools regarding quarantines. The "requirement" that students without symptoms test on day 5 to return to school on day 6 is now a "recommendation" when testing is not feasible. Since testing is not feasible at this time due to a shortage of resources, students who were to test to return this week may return tomorrow if they are symptom-free and agree to wear a mask at school the rest of this week.
https://www.facebook.com/wspatv/videos/1386468225127863

We realize there are quite a number of students who were expecting to test today and tomorrow to come back to school from being quarantined. Unfortunately, we have only 2 of our 5 nurses who are able to report to work today and tomorrow and the volume is too great to handle along with taking care of the usual daily tasks of a school nurse. We will allow for the use of at-home rapid tests. DHEC recommends that we proctor those tests, so they can be done at home via FaceTime with one of our nurses or with an administrator. If that is not possible, you may submit a test done at home but you will have to complete a DHEC form that will be available from the school nurse. It can be found on our website under the COVID tab. The form is called "At-Home Rapid Test Result Attestation." Complete guidance for at-home rapid testing is on pages 24-25 of the most recently released guidance booklet for schools, also available on our website under the COVID tab. Please let us know if you have any questions.

We still have dangerous areas on some of our back roads. Tomorrow's temperature doesn't reach above freezing until nearly 9am. We will be on a 2 hour delay for staff and car riders or bus riders whose parents can get them to school. Our buses will be on a 3 hour delay, so expect those students to arrive between 10:30 and 11:00. When we report our schedule online to TV stations, we won't have the option to put all that information (2 & 3 hr delay, depending on transportation), so we will report a 2 hour delay. Wherever you're coming from, please drive safely! Allow extra time for travel. Even some of our highways have runoff, which will result in black ice until the temperature gets sufficiently above freezing.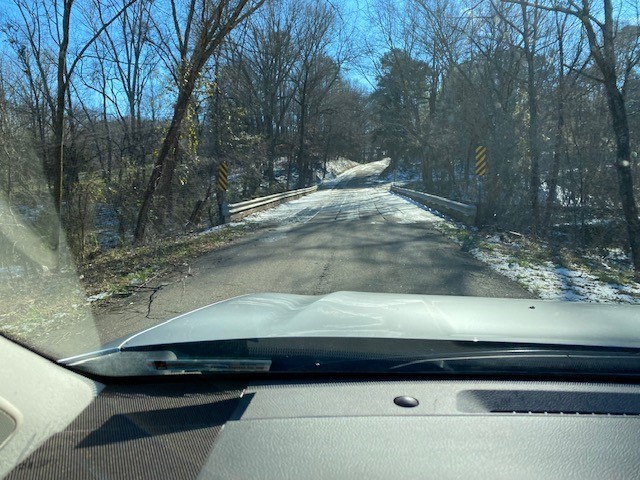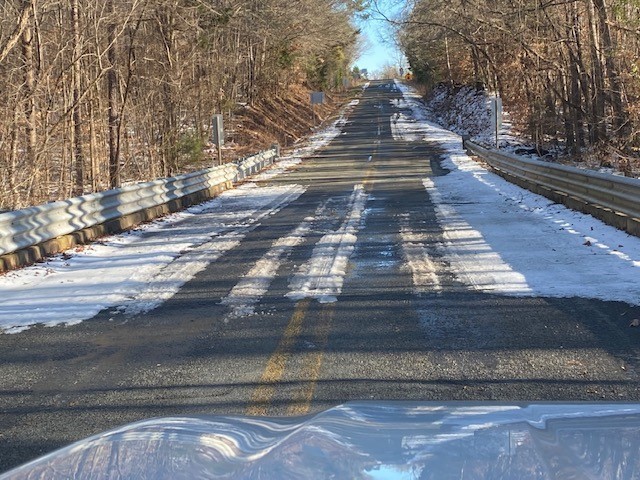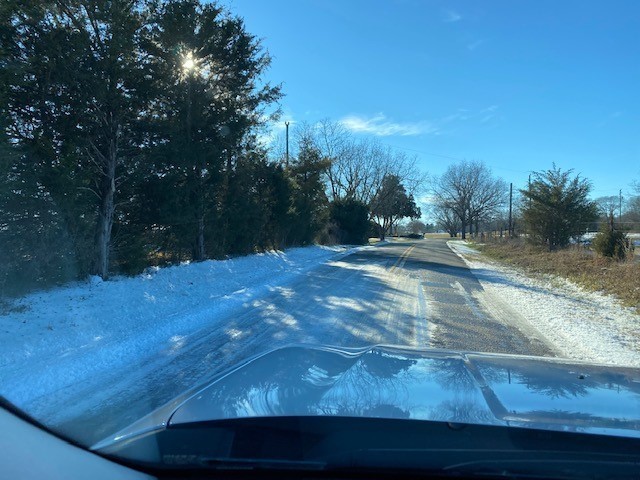 Ware Shoals School District would like to take a moment to honor the legacy of Dr. Martin Luther King Jr.

A vaccine clinic will be held at First Baptist Church next Wednesday, January 19, from 9-4. Vaccines and boosters will be administered for ages 5 and up. The flyer has a QR code for pre-registering, but that's not required.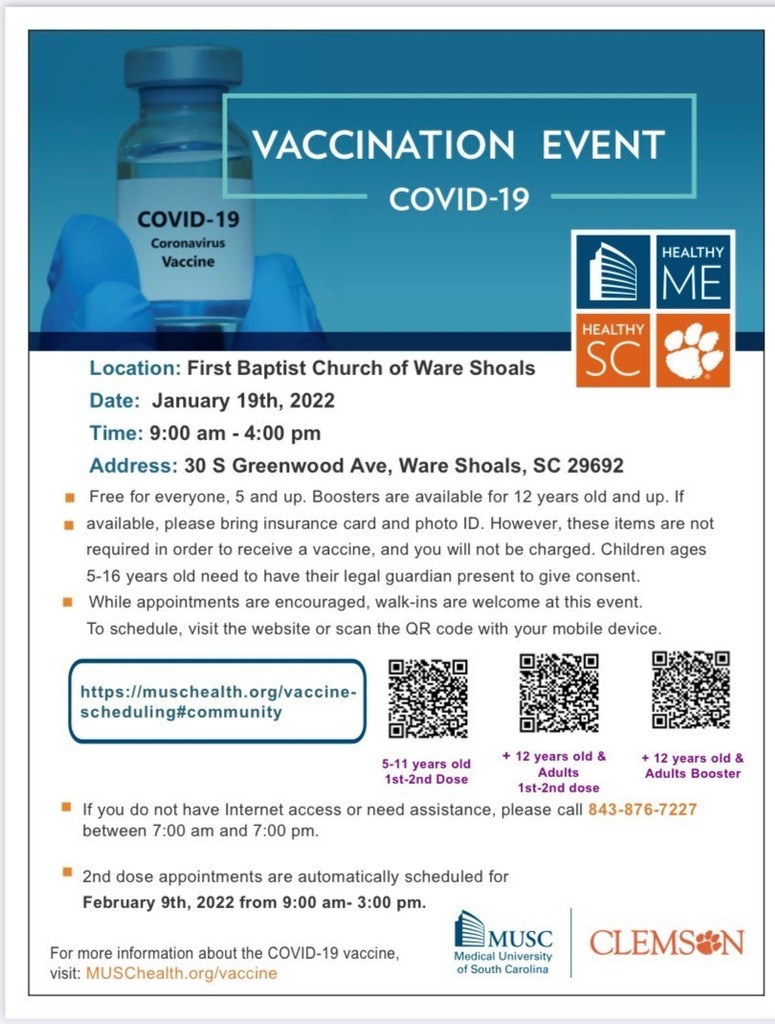 High Point Academy hosts our varsity boys' and girls' basketball team on Friday (Jan. 14). They are only allowing two parents for each player, no other spectators. $7 tickets can be purchased at the door.

Have questions about school attendance and the pandemic? Get answers this Thursday, January 13, 6:00 pm, in an informative Q&A webinar hosted by the SC Department of Education and the Carolina Family Engagement Center. See more here:
https://tinyurl.com/387nc7uc

Ware Shoals School District 51 would like to wish everyone a Merry Christmas and Happy New Year!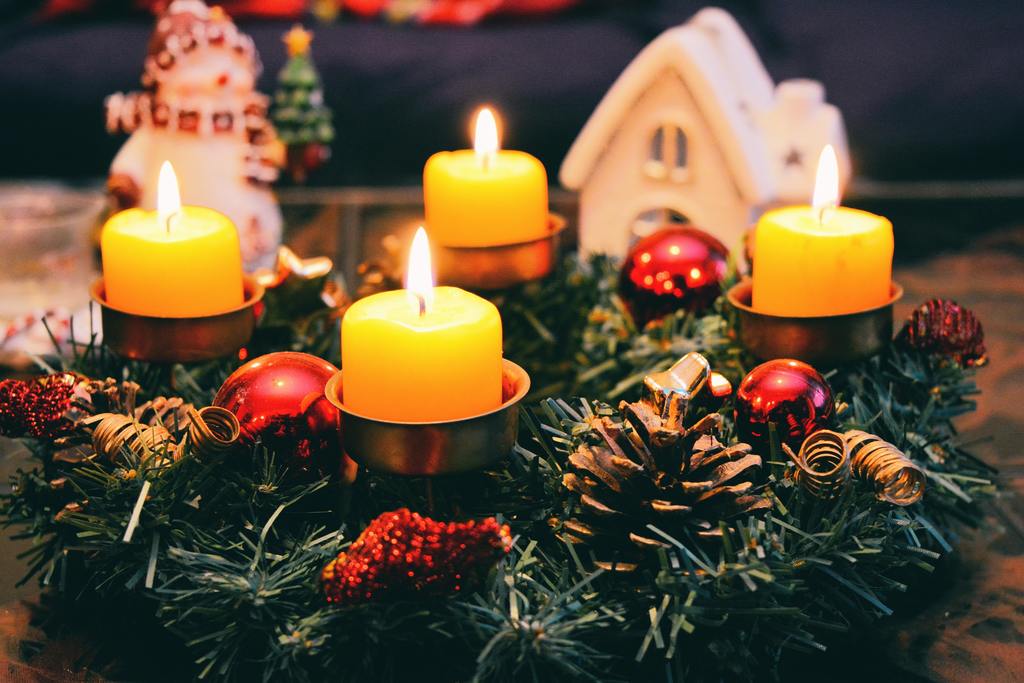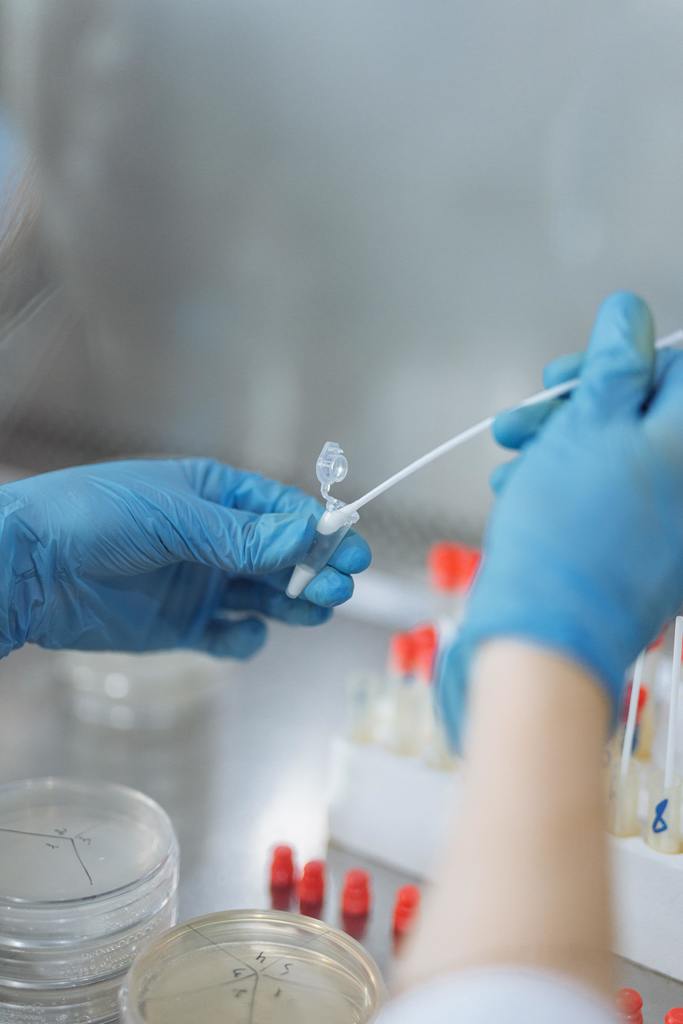 We are very proud of our staff and students for their amazing efforts in raising funds for "Christmas Is for Kids" and for collecting items for the Community Food Bank, located at Ware Shoals United Methodist Church. LEARNING, SERVING, LEADING and CARING! "The purpose of human life is to serve, and to show compassion and the will to help others." Albert Schweitzer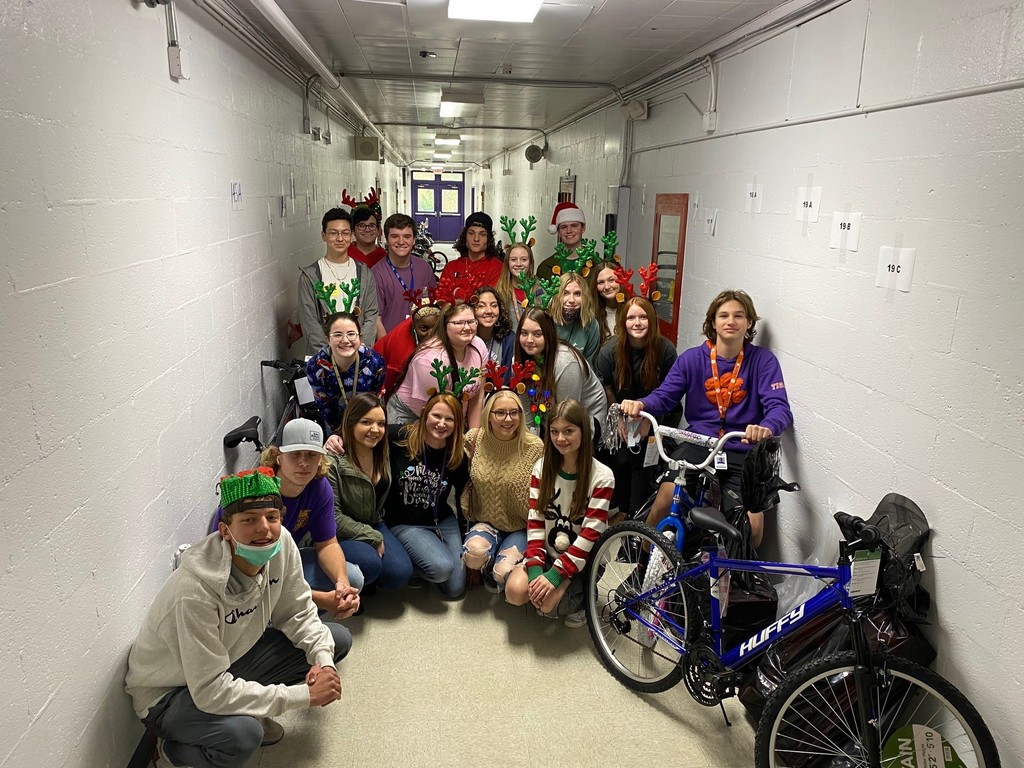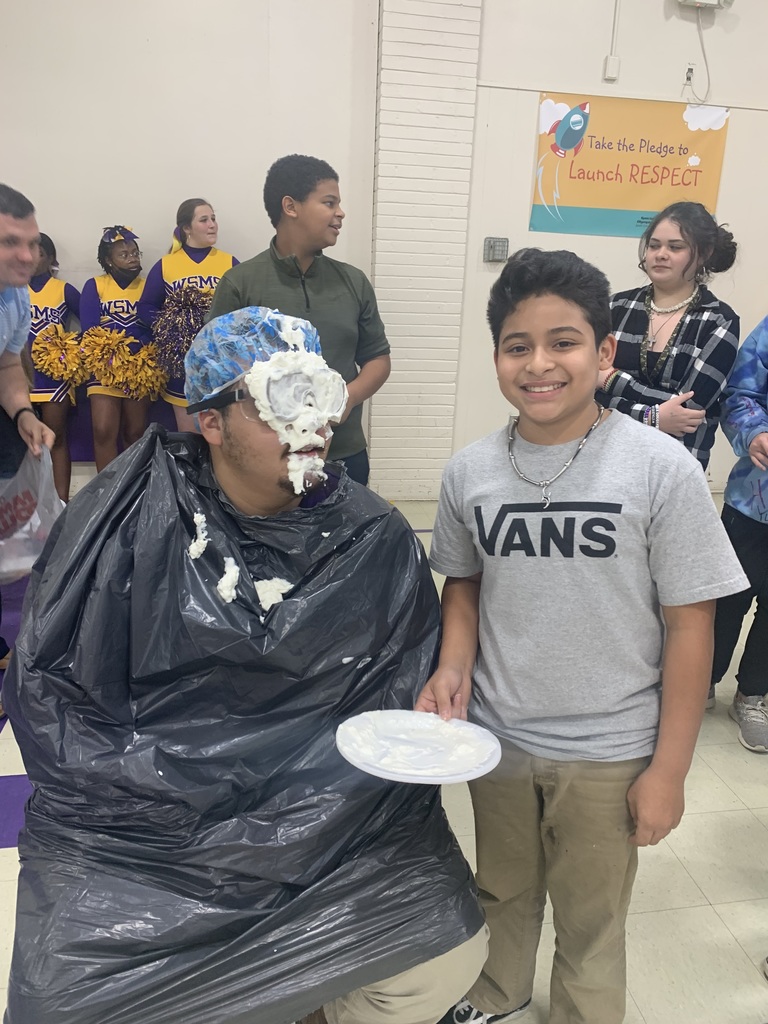 Ware Shoals Middle and Ware Shoals High raised over $25,000 this year for Christmas Is for Kids! Christmas will be extra special for 107 children in our district, thanks to the generosity of individuals, business, and civic organizations. We are very thankful to all who donated to this wonderful cause!